April Wins a Rogue...And Gives It Back!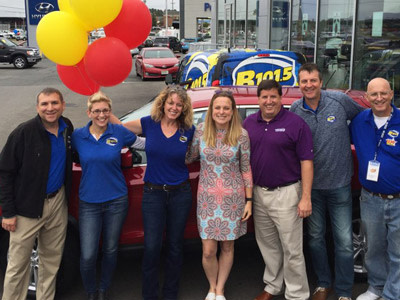 Here at Pohanka Nissan, we are so grateful to be part of this amazing community. Every day we are inspired by the hardworking, selfless individuals that we meet who strive to make our community a better place. April Burch is one of these individuals. She recently won a new Pohanka Nissan Rogue 3-year lease through a B101.5 month-long contest. And here's the amazing part…she refused the prize.

Together We Drive the Community
We thought you might enjoy hearing about this heartwarming story and the amazing community members we are so proud to be among.
So, why did April turn down a prize like a new Nissan Rogue lease? She had bigger plans for Conway Elementary School in Stafford and their Autism/Developmental Delay program. This unique program with specially trained teachers empowers children, including her own son, to be able to function with piers and excel at their greatest potential. For the past few years, the PTA at Conway has been donating supplies to the specialized programs, which these children so desperately need and love. One of April's son's favorite classes is "Food Friday," which is a class offered free of charge to the families. Teachers and specialists work with the students on overcoming sensory issues, communication roadblocks, and socialization problems through small cooking classes.
This program, among others, have lost their funding this year. Many of the teachers, parents and specialists at Conway have been personally organizing fundraisers and have even been digging deep into their own pockets to keep the Autism programs operating. April and her family became devoted to following a B105.5 contest to and from their drives to school. After many attempts of calling into the radio station, they became qualified and later made it among the top ten finalists at the contest held at Pohanka Nissan.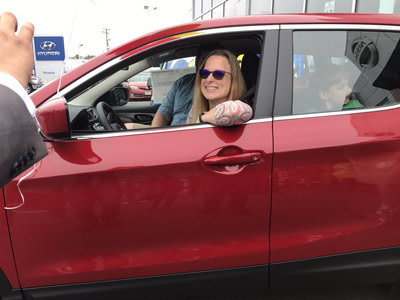 After waiting her turn to dig into a bag full of key FOBs while she was "shaking like a leaf," April selected a key, pressed the alarm button, and surprise! She'd WON!

"My suggestion of a small donation turned into a rather large donation being made to the Autism program at Conway Elementary school! The kids will be able to continue their special programs without their amazing teachers taking that financial burden! Everyone wins!!! Everyone is happy! Now Pohanka Nissan will have my business for life!" - April
She discussed this unbelievable prize with her family and came up with an alternative prize option that involved trading the Rogue Nissan for a donation to her son's autism program.

Tim Pohanka, owner of Pohanka Nissan, gladly accepted this proposal since he wants to support this cause all year long. Not just during the holidays.
"This is a cause we want to get behind all year long. It's great to give around the holidays, but what about the other 11 months?"
April shares with us that the kids will now be able to continue their special programs without their amazing teachers taking that financial burden. And we are happy to report she and her husband shared with us that they are Pohanka Nissan family members for life!
Learn how to support this cause.
Call Tim at Pohanka Nissan at 540-898-5200
Pohanka Rogue Winner April Burch talks with Dee in the Morning on B101.5 about using the car to help fund a local autism program at Conway Elementary in Stafford.