2016 Nissan Maxima for Sale near Lorton, VA
The 2016 Maxima is the Epitome of Exciting

The 2016 Nissan Maxima for sale near Lorton, VA, is the perfect combination of value and excitement. Pohanka Nissan proudly presents the 2016 Maxima as an alternative to the typical midsize family sedan with its quiet, luxurious cabin and sporty driving character.
If a four-door vehicle better suits your lifestyle, but you don't want to give up the sportier ride, the 2016 Maxima is the perfect sedan for you. Producing 300 horsepower and 261 lbs.-ft. of torque from the updated 3.5-liter V6 engine, you'll get all the thrills you need in this curve-seeking sedan. The little details echo this sporty vibe, with a "floating" roof appearance, dual chrome-tipped exhaust finishers, and a lowered stance for a depressed center of gravity. Inside, you'll find the same extensive detail when it comes to driver convenience. The center console, containing the 8-inch multi-touch control monitor, climate control, and audio buttons, is rotated 7 degrees to the left for better driver access. The Drive Mode Selector and Display Commander are within easy right-hand reach, so you can just lean back in those Zero Gravity front seats and enjoy the ride, no straining towards buttons out of reach in this sedan.
The 2016 Nissan Maxima for sale near Lorton, VA, also has two monitors, the first of which is a 7-inch Drive-Assist® Display1, which is designed to give the driver all the information they need right when they need it. It provides turn-by-turn navigation2, displays the Tire Pressure Monitoring System3, and has a Driver Attention Alert4, which makes sure you're in tip-top shape while on the long haul to Luray Caverns to see the clusters of stalactite and stalagmite formations. The Drive-Assist® Display on the Maxima also conveniently shows various Driving Aids, including the Blind Spot Monitor5 and Predictive Forward Collision Warning6.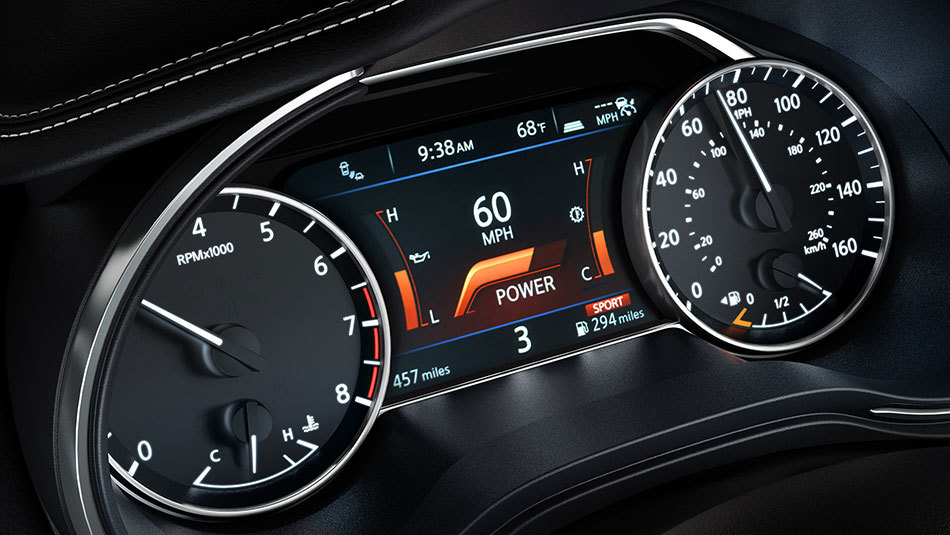 The second is the 8-inch center console touchscreen, which uses the NissanConnectTM7 telematics system. It works similarly to a tablet, responding to pinch or swipe motions on key screens. With its advanced Voice Recognition, it's easy to search Google® online, or use Bluetooth®8 hands-free calling to stay in touch with family and friends. Also available through Bluetooth®8 is audio streaming, so your radio is always playing your favorite station on the 11-speaker audio system.
There's nothing ordinary about the 2016 Nissan Maxima for sale near Lorton, VA. It's an exciting midsize sedan that was designed with the driver in mind. Come on down to Pohanka Nissan and test drive it for yourself!
1.Driving is serious business and requires your full attention. Even with the Advanced Drive-Assist® Display, only use phone or other communication devices when safe. Information displayed is dependent on how vehicle is equipped.
2. Never program while driving. GPS mapping may not be detailed in all areas or reflect current road status.
3. TPMS is not a substitute for regular tire pressure checks.
4. Driver Attention Alert standard on Platinum only. It is the driver's responsibility to remain alert at all times. DAA is only a warning to inform the driver of a potential lack of driver attention or drowsiness. It does not detect and provide an alert in every situation. See Owner's Manual for details.
5. Blind Spot Warning is not a substitute for proper lane change procedures. The system will not prevent contact with other vehicles or accidents. It may not detect every vehicle or object around you.
6. PFCW is intended to warn you before a collision occurs; it cannot prevent a collision. Speed and other limitations apply. See Owner's Manual for details.
7. Driving is serious business. Only use features when safe to do so. App availability is dependent upon vehicle model, trim level, packaging, and/or options. See NissanUSA.com/connect for complete app availability details. Never program while driving. GPS mapping may not be detailed in all areas or reflect current road status. Compatible smartphone required. Cellular network and GPS signals not available in all areas and/or at all times. Technology is evolving, and changes by independent companies are not within Nissan's control. Nissan is not responsible for associated costs that may be required for continued operation due to cellular network termination (including equipment upgrades, if available, or roaming charges on alternative networks) or other third party changes. Should a third party provider terminate/restrict service, service may be terminated without notice and with no liability to Nissan and its agents or affiliates. Subscription Agreement required and terms and conditions of Subscription Agreement apply. See NissanUSA.com/connect for details. Thirty-six (36) month trial period begins on your date of vehicle purchase or lease of a new Nissan; subsequently a paid subscription is required (excluding Pandora,® if Pandora® app via NissanConnectSM is equipped on vehicle) at the then current rate to continue to receive services. Text rates and/or data usage may apply.
8. Availability of specific features is dependent upon the phone's Bluetooth® support. Please refer to your phone Owner's Manual for details. Bluetooth® word mark and logos are owned by Bluetooth SIG, Inc., and any use of such marks by Nissan is under license.