Oil Change Coupons in Fredericksburg, VA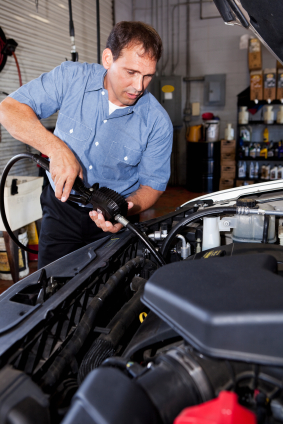 Everyone who drives a car needs to make an oil change part of their routine maintenance. Here at Pohanka Nissan of Fredericksburg, our service advisors recommend bringing your vehicle in for an oil change every three to five months, or every 3,000 miles, depending on how often you drive. Now, of course you want to get the lowest price possible for this service, and you're wondering how a dealership like us compares to the big-name warehouse stores like Costco or Walmart. We are happy to report that we can provide you with the utmost quality for a low price as soon as you stop by our Service Department today!
If you decide to get your oil change completed by a national chain like Quick Service Auto Center, you simply won't be able to indulge in all of the advantages that a dealership like us can provide. Our technicians are skilled specifically in Nissan maintenance, so when you bring your Nissan vehicle to us, we can get right to work with paramount confidence. We make sure to complete every service as quickly as possible while you wait in our comfortable lobby. Feel free to access our complimentary Wi-Fi and enjoy our wide-screen televisions as your kids have the time of their lives in our play area. Just to top off your service with how much we appreciate you as a customer, we will run your vehicle through our complimentary car wash when we have completed your oil change.
You just won't get this kind of personal touch with a quick lube service station. And, though they surely do have competitive pricing, we make sure to match that with our Pohanka oil change coupons. You can find discounts right here on our website and stop by any one of the six days a week that we have convenient business hours! The best part is you don't even have to make an appointment before walking through our front doors, especially if you're in a hurry. When you come through, we make sure to drop what we're doing and take care of you, our valued customer, as quickly as possible, so you can simply stop by if you have a free hour in your day.
Hurry on over to Pohanka Nissan of Fredericksburg during our convenient business hours to take advantage of our many oil change coupons in Fredericksburg, VA. We make it a point to deliver excellence into every transaction, especially when you need something as routine as an oil change. We want to make sure you keep coming back for our quality service, so we do the best that we can to make that happen, including providing discounts on our already low oil change prices. Make sure to stop into our dealership at 5200 Jefferson Davis Hwy. in Fredericksburg, VA, when you're ready to indulge in our services!
Service Hours
| | |
| --- | --- |
| Monday | 6:00 am - 5:00 pm |
| Tuesday | 6:00 am - 5:00 pm |
| Wednesday | 6:00 am - 5:00 pm |
| Thursday | 6:00 am - 5:00 pm |
| Friday | 6:00 am - 5:00 pm |
| Saturday | 6:00 am - 5:00 pm |
| Sunday | Closed |

Testimonials
GOOGLE
3-14-2020
GOOGLE
3-12-2020
GOOGLE
3-12-2020
GOOGLE
3-10-2020
GOOGLE
3-10-2020
GOOGLE
3-10-2020
YELP
3-10-2020
GOOGLE
3-7-2020
GOOGLE
3-6-2020
GOOGLE
3-5-2020
GOOGLE
3-3-2020
GOOGLE
3-3-2020
GOOGLE
3-3-2020
YELP
3-2-2020
GOOGLE
3-2-2020
GOOGLE
3-2-2020
GOOGLE
2-29-2020
GOOGLE
2-29-2020
GOOGLE
2-28-2020
YELP
2-28-2020
GOOGLE
2-27-2020
GOOGLE
2-26-2020
GOOGLE
2-25-2020
GOOGLE
2-24-2020
GOOGLE
2-22-2020
YELP
2-22-2020
GOOGLE
2-18-2020
GOOGLE
2-18-2020
GOOGLE
2-17-2020
GOOGLE
2-17-2020
GOOGLE
2-17-2020
GOOGLE
2-16-2020
GOOGLE
2-15-2020
GOOGLE
2-15-2020
GOOGLE
2-13-2020
GOOGLE
2-12-2020
GOOGLE
2-12-2020
Russell Jason Vincent Hobbs
GOOGLE
2-9-2020
GOOGLE
2-8-2020
GOOGLE
2-7-2020
GOOGLE
2-7-2020
GOOGLE
2-5-2020
GOOGLE
2-4-2020
Amarillo Off Leash K9 Training & Best Dog Trainer
GOOGLE
2-3-2020
Read More